October 20, 1913 – February 19, 1998
Hometown: Niagra, KY
Cast Dates: 1969 – 1990
Real name: Louis Marshall Jones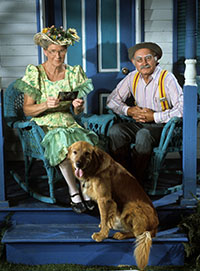 "Hey, Grandpa, what's for supper?" That's what we all wanted to know. Grandpa would stop cleaning the non-existent window pane to tell us the menu in rhyme and verse. A tempting array of Southern comfort foods would be met with "Yum, yum!" Something less appetizing, like a frozen TV dinner, would evoke a "Yuck!" Grandpa had a lot on his plate: he also did the "Cooking Spot" with Minnie Pearl.
His deadpan sense of humor was a perfect fit for "The Culhanes," the "Fishing" spot with his longtime friend Stringbean, and the "Post Office" spot with Minnie.
Grandpa's trademark 'What'd ya say' became a trademark reply imitated by many of the HEE HAW Cast.
Grandpa, known as Marshall in his youth, was highly regarded for his energetic style of banjo playing and he is credited with sustaining the interest in old-time music and the banjo. Many artists and musicians claim to have been influenced by his claw-hammer technique. The "Cast Banjo Songs" with Grandpa, Stringbean, Roni Stoneman, and Roy Clark were something to behold.
He was an original member and the driving force of the HEE HAW Gospel Quartet. The overwhelming fan response to these traditional gospel performances led to the release of six successful HEE HAW Gospel Quartet albums during the run of the show and two subsequent compilation releases.
Grandpa's wife Ramona, who played the fiddle, often appeared on HEE HAW as a guest in the "Cast Fiddle Songs" – and the "bell songs" she and Grandpa performed – a most unique musical combination of hands, feet and cowbells!