June 17, 1915 – November 10, 1973
Hometown: Annville, KY
Cast Dates: 1969 – 1973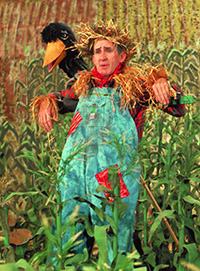 Stringbean, whose real name was David Akeman, was warmly regarded by his fellow workers and fans throughout the world.
His banjo-playing style was reminiscent of Uncle Dave Macon, and he put it to use in the "Cast Banjo Songs." In "Stringbean's Letter from Home" the HEE HAW Gang would wait as he searched the many pockets of his overalls for the letter he kept close to his heart.
His laconic delivery embellished "The Fishing Spot" with Grandpa and "The Scarecrow" in the Cornfield.
The Scarecrow remained in the Cornfield as a silent tribute to Stringbean after his untimely death in 1973.