Hometown: Galax, VA
Cast Dates: 1973 – 1990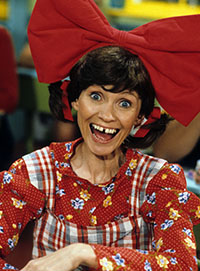 Roni was asked to join the HEE HAW cast after she made a guest appearance in 1972. She is best remembered as the skillet and iron-swinging Ida Lee in "The Naggers" with Gordie Tapp.
Roni is a member of the famous performing family of the late Ernest "Pop" Stoneman, and she began her singing career at the age of five on stage at Constitution Hall in Washington, D.C.
Although she is recognized by the public and fellow musicians as one of the country's best banjo pickers, Roni sings and plays guitar equally well.
It was always a rousing good time when she performed the "Cast Banjo Songs" with Grandpa and Roy.