August 10, 1926 – November 13, 1983
Hometown: Cumming, GA
Cast Dates: 1969 – 1983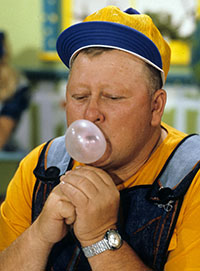 Junior was probably the only member of the HEE HAW cast who actually wore overalls before joining the cast. His RCA recording of "The Big Fish Story" caught the attention of Archie Campbell – the rest is HEE HAW history.
Although the image of Junior on the sofa in "The Culhanes" is indelible, "Junior's Used Cars" is one of the most famous television comedy sketches of the last thirty years.
The phone number used in the sketch, 'BR-549′, was adopted by a popular music group and is often quoted in other comedians' monologues. Describing someone's vehicle as looking like "one of Junior's used cars" became part of our lexicon.
Junior's outtakes and bloopers are industry favorites, because he was so easily flustered and so endearing when he got tickled.