Hometown: Meherrin, VA
Cast Dates: 1969 – 1990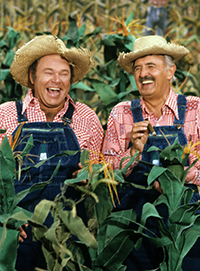 Roy was born into a musical family in the Washington, D. C. area, and over the years Roy's father, Hester, and other members of his extended family appeared frequently as musical guests on HEE HAW.
Roy mastered guitar, banjo, mandolin, and fiddle at an early age, and by age 17 he had appeared on television and opened for Hank Williams. He performed with banjo virtuoso Grandpa Jones twenty years before their successful collaboration on HEE HAW. Due to his popularity as co-host of HEE HAW for its entire run, Roy Clark has become a household name. His musical versatility was showcased in instrumental and vocal collaborations with guests and fellow cast members. He was a member of the HEE HAW Gospel Quartet and the HEE HAW Cowboy Quartet, both of which had successful albums released. "Pickin' and Grinnin''" and the "Cast Banjo Songs" were the perfect showcase for Roy's nimble fingers and exuberant personality.
Natural comedic timing enabled Roy to step into scripted roles such as the proprietor of The Empty Arms Hotel, the straight man to Archie Campbell's barber, Claude Strawberry the Poet, or as Dear Royella with his long-time acquaintance, Grandpa Jones. But it was Roy's quick wit and talent for improvisation that were put to work in "helping" Junior Samples get flustered and tongue-tied. He had Junior begging for mercy in the famous "Trigonometry" runner in The Cornfield, which was deemed worthy of inclusion in the comedy home video compilation 'HEE HAW Laffs'.