Hometown: Gothenburg, Sweden
Cast Dates: 1969 – 1990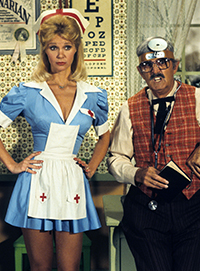 As the curvaceous Swedish blonde, Gunilla's Nurse Goodbody was the foil for Archie Campbell's leering doctor.
She was probably responsible for raising the blood pressure of every male resident of Kornfield Kounty, not to mention millions of viewers.
Coincidentally, Gunilla filled the HEE HAW cast slot of Jeannine Riley after having stepped into Jeannine's shoes once before in the role of "Billie Jo" on 'Petticoat Junction'. Gunilla is an accomplished singer and dancer.
She has appeared in the role of "Lola" in the musical 'Damn Yankees', and she and Roy Clark were co-stars in a production of 'Paint Your Wagon'.