Hometown: Toronto, Ontario Canada
Cast Dates: 1969 – 1985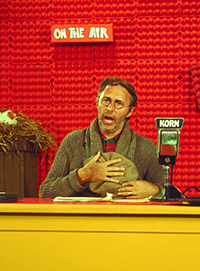 Don's alter-ego, Charlie Farquharson, was HEE HAW's intrepid announcer on radio station KORN. Dressed in an overly well-worn sweater and frayed cap, his droll stories about the residents of Kornfield Kounty contained double entendres which had adult viewers laughing at stories which younger viewers heard as something entirely different.
In addition to his television appearances as Charlie, Harron published several books in the character.
Don is a playwright and classically trained actor, and he was a member of the resident company at the Stratford Festival in Ontario. He wrote the book and lyrics for the popular play, 'Anne of Green Gables'.
He was awarded and recognized for his contribution to the Canadian entertainment industry with his being named a member of the Order of Ontario in 2000, and inducted into the Canadian Country Music Hall of Fame in 2010.