Jim:  August 30, 1941 – May 1, 2008
Jon:  August 30, 1941 – January 9, 2009
Hometown: Park Ridge, IL
Cast Dates: 1969 – 1985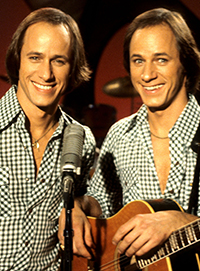 Jim and Jon performed together while still in high school and college. They honed their performance skills while appearing in USO shows and NCO clubs during their tour of duty in the U.S. Army in Germany and Vietnam. 
They were performing in Southern California after their stint in the military, performing with The Carpenters, The New Christy Minstrels, John Denver, Steve Martin, and Kenny Rogers. They also worked at Disneyland, which is where they were brought to the attention of Buck Owens.
Buck signed them to his management roster and nurtured their careers, bringing them on board HEE HAW when the show went on the air in 1969. The Hagers appeared on the first episode and stayed with the show until 1985.
In addition to Buck, The Hagers served as opening acts for Tex Ritter, Wynn Stewart, Billie Jo Spears, and Lefty Frizzell. In all, they recorded six albums.