September 2, 1934 – November 23, 1982
Hometown: Amarillo, TX
Cast Dates: 1979 – 1982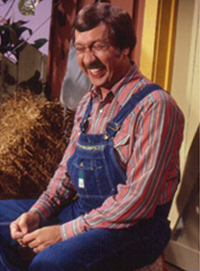 Grady was known as the Prime Minister of Humor to HEE HAW fans. He was asked to join the HEE HAW cast in 1979 after just one guest appearance.
The positive response to Grady's humor was immediate and quite profound. HEE HAW received mail from two types of fans: from among the thousands who had heard him speak in person at religious conventions and college campuses, and those who were hearing him with delight for the first time.
Mail came in from the offices of the governors of two states, from the Dean of Students at a small southern college, from pastors of churches large and small… from lay people who could identify with his church-going experiences, and from teenagers who couldn't believe that HEE HAW had hired someone to whom they could relate.