Hometown: Edinburg, TX
Group Members and Dates of Cast Membership
Joe Babcock: HEE HAW Cast: 1969 – 1990
Dolores Edgin: HEE HAW Cast: 1969 – 1990
Ricky Page HEE HAW Cast: 1969 – 1974
Wendy Suits: HEE HAW Cast: 1975 – 1990
Hurshel Wiginton HEE HAW Cast: 1969 – 1990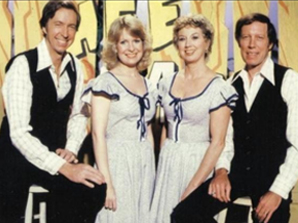 We can thank Nashville's country music recording industry for the premiere vocal group The Nashville Edition. Originally known as The Town and Country Singers, the group joined the HEE HAW cast after recording the HEE HAW theme song for Sheb Wooley. They not only rounded out the musical sound of the HEE HAW Cast Songs, they provided solid background vocals for the guest artists.
The Nashville Edition is mentioned in reviews and liner notes for artists ranging from Elvis Presley to Elvis Costello.
And beyond singing – although it was impossible to recognize her under all the makeup and wardrobe – Wendy Suits had an ongoing role as Ida Lee's "Maw" in the "Naggers."