August 12, 1929 – March 25, 2006
Hometown: Sherman, TX
Cast Dates: 1969 – 1985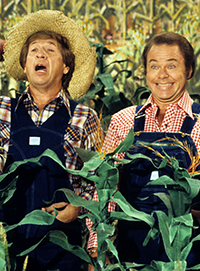 Buck Owens instantly qualifies for any list of true country music superstars. His ground-breaking music pioneered the "Bakersfield sound" in the 1960's, the songs he wrote, published and recorded were hits for him as well others – like The Beatles recording of "Act Naturally," his sixteen years as co-host of HEE HAW, and his remarkable business acumen made Buck an icon whose career is one of the most multi-faceted and enduring success stories in country music.
In the spring of 1969 two highly respected television producers, Frank Peppiatt and John Aylesworth, in need of a solid country music performer, asked Buck to join the cast of their new CBS country music/comedy show, HEE HAW. Buck agreed to come on board as the co-host, and he brought the Buckaroos with him. Buck already had a huge international following and a magazine published regularly by his fan club, but suddenly Buck and the Buckaroos were getting enormous national television exposure every week.
In addition to the great music, viewers got to see Buck performing with the HEE HAW cast in the "Cornfield," "Haystack," "Ask Buck," and "Knock, Knock." As a result of the perfect melding of the talents of Buck Owens and Roy Clark, the phrase "Pickin' and Grinnin''" has become a part of our lexicon. One of the most memorable performances on HEE HAW was in 1970 when Ray Charles, in his first guest appearance on the show, performed "Cryin' Time" with Buck; the award winning "Cryin' Time," written and record by Buck had also been a huge hit for Ray Charles.
As a mentor to younger artists, Buck is responsible for nurturing the careers of The Hagers and Lulu Roman, as well as Susan Raye. Buck's son, Buddy Alan, was a frequent guest on HEE HAW performing with Buck and the Buckaroos. Since Buck's death, Buddy continues to perform at The Crystal Palace in Bakersfield, California and is doing a great job keeping Buck's memory alive. Read more about Buck at his official web site: www.buckowens.com.