August 21, 1913 – April 9, 1990
Hometown: Austin, TX
Cast Dates: 1975 – 1981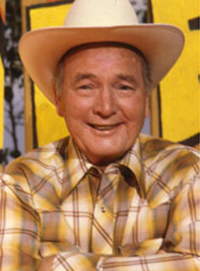 John Henry's homespun manner belied his background as an educator. It was while he was teaching literature at the University of Texas that John Henry cultivated his story-telling skills.
A television movie about John Henry's earlier career on the radio piqued the interest of HEE HAW creators John Aylesworth and Frank Peppiatt.
As a member of the cast, his appearances on HEE HAW brought him renewed fame and interest on the college lecture circuit.
The John Henry Faulk Public Library in Austin, TX is named for him.