Hometown: Santa Barbara, CA
Cast Dates: 1970 – 1985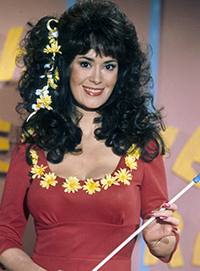 A statuesque brunette in a sea of blondes, Lisa Todd was another member of the HEE HAW cast who was spotted on The Jonathan Winters Show by producers Frank Peppiatt and John Aylesworth.
Her TV career began in the 1960's on "The Beverly Hillbillies."
Cast as "Sunshine Cornsilk," she hopelessly pursued the attention of Junior Samples; as Kornfield Kounty "Weather Girl" one would hope that with the name "Sunshine Cornsilk" the weather forecasts would always be fair and lovely.
Unlike "Sunshine's" unsuccessful pursuit of Junior, in "Advice to the Loveworn" Lisa always advised the best ways to get a man.